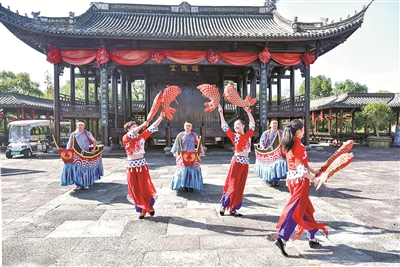 Xiepu Boat Drum Dance.澥浦船鼓。[Photo provided to Ningbo Times]

  By Gou Wen
  Xiepu Boat Drum Dance originated in the Qing Dynasty (around 1810) and has a history of more than 200 years. It is a folk dance that integrates percussion instruments, boat-shaped props, and folk music. The Dance reflects the ways of life and customs of fishermen in eastern Zhejiang. When fishing boats return with full loads, fishermen celebrate the harvest with the Boat Drum Dance.
  澥浦船鼓起源于清朝(约1810年前后),距今已有200多年历史。这是一种集打击乐、船型道具和民歌小调为一体,反映浙东渔民生产生活习俗的民间舞蹈样式。每逢渔船满载而归,渔民们就以船鼓表演来庆祝丰收。
  Xiepu is the name of the place where the Dance originated. Xiepu town was a great fishing port in the Ming and Qing dynasties. In the Old Yue language, "pu" means "the water's edge" or "where the river meets the sea"; "xie" is a homonym of "蟹" (crab). Together, the two syllables mean "a place near the water's edge with crab".
  澥浦其实是个地名,澥浦镇在明清年间是个很大的渔港。澥浦中的"浦"字是古越语,意思为水边或河流入海的地方,"澥"通"蟹",合起来的意思可以理解为"靠近水边、有螃蟹的地方"。
  Today's Xiepu Boat Drum Dance begins with a performer shouting the words "setting sail!" The five acts—navigating the seas, casting the net, riding the waves, pulling up the catch, and return to port—depicts the entire fishing journey and eastern Zhejiang's maritime customs.
  如今传承下来的澥浦船鼓以"开船啰——"作为引子,之后按照"出海、作业、搏海、丰收、归航"5个章节,反映渔民捕鱼作业的全过程,体现了原汁原味的浙东渔家风情。