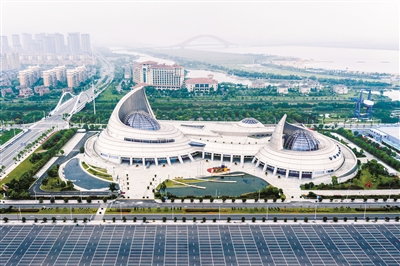 The China Port Museum. /中国港口博物馆。[Photo by Qiu Wenxiong]邱文雄摄
By Jin Lu
Located in Beilun District, Ningbo, the China Port Museum is the largest and most prestigious port-themed museum in China.
中国港口博物馆位于宁波北仑区,是我国规模最大、等级最高的大型港口专题博物馆。
With a focus on port culture, the museum integrates exhibitions, education, collections, research, tourism, international exchanges, and other functions. Embodying internationalism, professionalism, and interactivity, the museum has become not only a cultural base for telling the stories about port history, culture, and maritime civilization, but also a cultural anchor of the Maritime Silk Road in the new century.
该博物馆以港口文化为主题,集展示、教育、收藏、科研、旅游、国际交流等功能于一体,体现国际性、专业性、互动性,是传承港口历史、挖掘港口文化的文化基地,更是新世纪海上丝绸之路的文化支点。
The architectural design inspiration of the museum was drawn from a conch. Its streamlined modeling is extremely modern. All of these factors combine to boost the novel image of Ningbo as a booming port city, where versatile leisure and education services for the promotion of maritime civilization and port culture are provided.
博物馆建筑的设计灵感来自海螺,其流线型造型极具现代感,展现了宁波蓬勃发展的港口城市形象,为海洋文明和港口文化的传播提供多元化、舒适的公共空间。