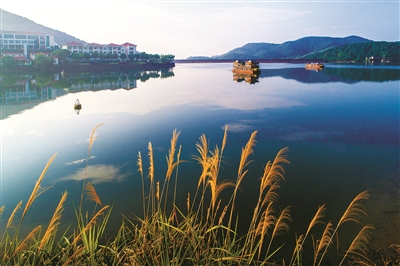 The tranquil lake. /宁静的湖泊。[Photo by Jiulonghu]九龙湖供图
By Gou Wen
Jiulonghu (Jiulong Lake) is located in Zhenhai, Ningbo. To the north of the lake, there are nine peaks and nine ridges among the rolling hills, resembling nine dragons, which is why the Lake is named Jiulong ("nine dragons") in Chinese.
九龙湖位于镇海,湖的北侧有九个山头和九条山脊并列,犹如九条卧龙伏地,因而得名。
Due to its unique wetland ecology, Jiulong Lake is home to a diverse range of rare flora and fauna. About 40 species of wetland plants, such as the common reed and silvergrass, grow here. A variety of birds, including egrets and mallards, live here. The pangolin, the Chinese hare, and other animals also thrive here.
独特的湿地生态环境,造就此地丰富的珍稀动植物资源。这里有芦苇、芒草等约40余种湿地植物,白鹭、绿头鸭等多种鸟类栖息于此,穿山甲、华南兔等兽类在这里繁衍生息。
The surrounding vegetation consists mostly of coniferous trees and broad-leaved secondary forests. Local trees listed as national and provincial key protected species include the ginkgo and the Chinese tulip poplar.
景区内以乔木针叶林、阔叶树次生林为主,其中列入国家和省级重点保护的树种有银杏、鹅掌楸等。
Nowadays, tourists at Jiulong Lake can explore nature and enjoy modern amusement facilities such as the giant rainbow hillside slide, the children's park, and lake cruises.
如今,九龙湖不仅能满足人们探索自然、亲近自然的愿望,游客在此还可以体验彩虹滑道、梦幻乐园等娱乐项目,以及游船观光等休闲项目,享受自然山水间的乐趣。