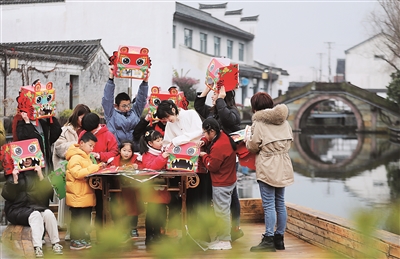 Making tiger hats to celebrate the festival here. /制作虎头帽庆祝节日。 [Photo by Tang Yan, Tang Yue] 唐严汤越摄
  By Gou Wen
  Zheng Shi Shi Qi Fang (the Seventeen houses of the Zheng family) is located in Zhenhai District, with a construction area of more than 40,000 square meters. Most of the houses were built in the Qing Dynasty. This is one of the largest and best preserved ancient architectural villages of the Ming and Qing Dynasties in China.
  郑氏十七房位于镇海区,建筑面积4万多平方米,大多为清代建筑,是国内现存规模最大且保存较为完整的明清古建筑村落之一。
  Walking on the flagstone road, people can see the small bridges, flowing water, ancestral hall, and ancient stage, together forming a beautiful view that represents the scenery of Jiangnan, or southern area of the Yangtze River.
  漫步在石板路上,小桥流水与祠堂戏台相映成趣,目光所及是一派江南风光。
  This is one of the origins of Ningbobang. Many business giants, such as Zheng Xi, founder of "Lao Feng Xiang" and Zheng Zunfa, founder of "Hero Ink", had become indispensable names when people mention Ningbobang.
  这里是宁波商帮的最早发源地之一,走出了一批商业巨子,如"老凤祥"创始人郑熙、英雄墨水厂创始人郑尊法等,是宁波商帮一股不可或缺的力量。
  Nowadays, many people are attracted to visit here. At the beginning of the Year of the Tiger, citizens and tourists come to guess lantern riddles, wrap rice dumplings, and make tiger hats, adding a lively festival atmosphere here.
  如今,这里吸引了许多人前来游玩。在虎年伊始,市民游客在这里猜灯谜、包汤圆、制作虎头帽,为老宅增添了热闹的节日氛围。