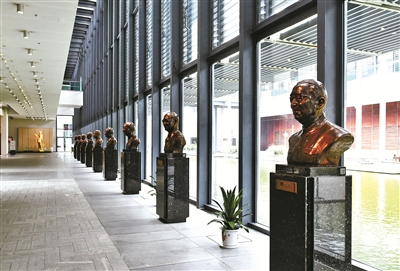 The Exhibition Hall. /展厅一景。 [Photo by Tang Yan] 唐严摄
By Gou Wen
A humanities museum in Ningbo, the Ningbobang Museum has been established for 12 years.
作为宁波的一座人文专题博物馆,宁波帮博物馆已经走过了十二年的历程。
Not only does it record the establishment, development and prosperity of Ningbobang (the Ningbonese who work and live away from home) from the end of the Ming Dynasty to now, but also the wisdom of those people and their deep feelings for their native town.
这里,不仅记载着明末至今宁波帮的建立、发展和鼎盛的历史,还呈现了宁波帮的财智文化和桑梓情怀。
The audience can learn about the stories of how they stood out from many business groups and shined brightly in the fields of shipping, finance, commerce and trade, among others, after walking through the exhibition hall. Their contributions to their hometown and country are equally presented.
在展厅内,观众不仅可以看到宁波帮如何从众多商帮中脱颖而出,在航运、金融、商贸、实业等领域大放异彩,还能看到他们对家国的贡献。
Last year, part of the Museum was dedicated to Ningbo's honorary citizens by opening up a separate exhibition hall on the theme, which discusses the contributions they made to the urban development in diverse fields.
而去年新开的宁波市荣誉市民荣誉馆,也位于宁波帮博物馆内,讲述了宁波市荣誉市民在多个领域为宁波城市发展所作贡献。