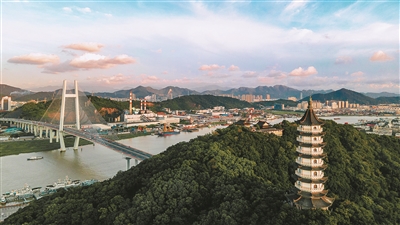 The Zhaobaoshan Mountain. /招宝山。 [Photo by Chen Bin] 陈滨摄
  By Gou Wen
  The Zhaobaoshan Mountain, an important historical coastal defense fortress, is located at the north side of the Yongjiang River and connected to the East China Sea. Nowadays, it is one of the ten most visited scenic spots in Ningbo .
  招宝山南接甬江,北临东海,是中国历史上重要的海防要塞,也是宁波市十大风景游览区之一。
  Here, people can pay tribute to the Weiyuan City, which was first built by Qi Jiguang, a Chinese hero who resisted foreign enemies in the Ming Dynasty. This historic site, having been renovated across the Qing Dynasty, has survived the changes of times until now.
  在这里,人们可以看到明清时期抗倭英雄戚继光为抵御外敌而建的威远城,历经风雨如今依然盘踞于此。
  The Aozhu Tower stands at the top of the mountain. Overlooking from the tower, the tourists can have a panoramic view of the surrounding area, and they can also see cargo ships in the distance.
  山顶有鳌柱塔屹立于此。登塔远眺,周边的风光尽收眼底,远处的货船往来有序。